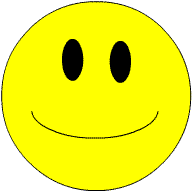 Selective questions and answers

Jenny (Texas) asks:
I use Outlook Express. When I click on a Smiley icon in the Schmaili window I hear the sound but nothing else happens. Why's that?

Professor Smileyinski's answer:
Before you click a Smiley icon to fit it in you have to click somewhere in the mail window, in which you're writing your text. Usually you first write the text and then add a Smiley wherever it pleases you.
---
---

Lester (North-Carolina) asks: :

With AOL I never had any Problems when using Schmaili but since I have Outlook 2003 the Smileys don't move anymore when I insert them.




Professor Smileyinski's answer:
Microsoft has introduced a change with Outlook version 2003. Since that version mails innately are written with the program editor "Word". But that's ok, the Smileys arrive animated ("fidgeting") at your mail receivers.
---

Professor Smileyinski recommends:
The above mentioned questions are the most frequently asked ones. Of course there are many more – partly very individual – questions. That's what the Schmaili board is there for, to all Schmaili users.